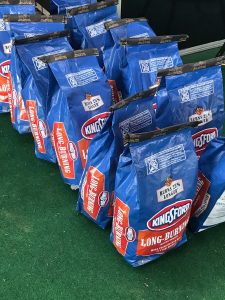 As a member of the Kingsford "Rib Squad," the good folks at Kingsford Charcoal asked me how much charcoal I needed to get through Memphis in May, as they had a major stash of charcoal they were bringing down.   I debated between using the Kingsford Professional charcoal or their new Long Burning Charcoal. I have used the Kingsford Professional several times this year, but only used the Long Burning once. Still, I liked it and asked for them to bring me Kingsford Long Burning.
My normal usage of charcoal for cooking a hog is around 125 lbs for this size hog. This year I was cooking two hogs, so my usage was going to be 250 lbs for the contest. Additionally, I was cooking for a hospitality dinner, so I estimated a total usage of 300 pounds for the entire week and asked them to bring me that amount. Now, before you say "wow, how can you use that much charcoal," remember that we cook  200+ pound whole hogs. For Memphis in May, we also use a Backwoods Smoker Pro Comp Hog Cooker, which is very large for a smoker.  It has a very large, 30+ gallon water pan. All of the metal and water in that cooker has to be heated up, plus a 200lb hog- that takes a lot of heat transference!
In Memphis-style cooking, I am a firm believer that smoke flavor should be a nuanced ingredient, and should never overshadow the flavors of your product. There is nothing worse than taking a bite of a succulent rib or piece of pork and tasting an overbearing smoke flavor. To accomplish this, I keep a nice bed of charcoal burning, which gives a fairly neutral flavor to my product. Then, I lay on wood chunks and sticks on the charcoal to flavor the product as I want. So I am getting some heat from the wood, but I usually only go through a total of 10 lbs of wood for each hog.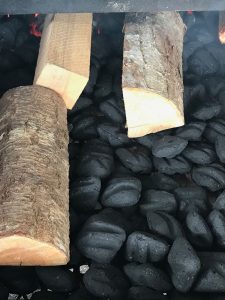 I believe building my fire this way gives me the best control over the Five Factors of BBQ that I believe in.  These BBQ Factors are affecting meat with heat, smoke, spice, flavor and time.
Actual Performance
Enough about theory- how did the charcoal perform? Let's go back to my estimate of 300 lbs of charcoal for the contest. I've been cooking hogs for a long time with my exact procedures regarding times and temperatures.   Barring major weather issues (high winds are the worst) I'm usually within 10-15 lbs of my estimated usage. For this cook however, for both hogs I used a total of 140 lbs of charcoal. My normal usage would be 250 lbs, so 110 lbs of charcoal savings. That's 44% less charcoal than I normally would use! I was pretty shocked when we added everything up at the end of the contest. Needless to say, I now have a large stash of Kingsford Long Burning Charcoal.  I'll keep the Kingsford Long Burning for contests and the Kingsford Professional for using in my Big Green Egg.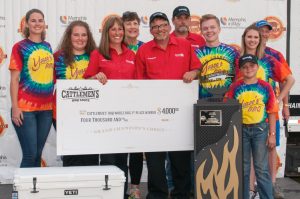 And the final results- a World Champion Hog!
Note:
I am a paid Kingsford Charcoal Ambassador.  However, all opinions contained in this post are my own.